About a year ago I decided to give me and my sister's room a makeover. Even though we technically share a room and I still have some of my things in it, I am away at school for the majority of the time, so she doesn't have to share much. To make the transition from "our" room to "her" room, I decided to do a little DIY project and painted some letters that spelled out her name and hung them on the wall.

My sister had gotten this pillow for Christmas. Coincidentally, I picked out these colors of paint before my sister even got her pillow. I thought it would be a great idea to copy it after I realized I had all the colors I needed.


I got the wooden letters and peace sign from Hobby Lobby. If I remember correctly they were about $3.50 a piece. And I got the bottles of acrylic paint from Walmart for about 99 cents each.

I hung these letters on the wall with Command Strips. I only needed one on each because they weren't that heavy. Here is the finished product.
Powered by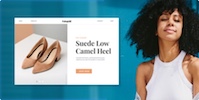 Create your own unique website with customizable templates.