I've had my Anastasia Beverly Hills Dipbrow Pomade for some time now and it hadn't been working as well as when I first purchased it. I contemplated on trying out Benefit Cosmetics Brow Zing Kit but didn't have $32 to spend on it. I ended up googling "my dipbrow pomade is dry." To my surprise, there were multiple YouTube videos on how to revive dried out makeup products.

I watched two videos. Both used oil to revive their product. One used baby oil and the other used Maracuja Oil by Tarte. Since the smallest size of Maracuja Oil is $15 and I didn't have any baby oil, I went hunting for oils in my house. I used cheap tea tree oil by Hollywood Beauty.

I used a cuticle spatula to scoop a tiny bit of product into the cap, added a small drop of oil and mixed it. Voila! Next I'll try it on my cream eyeliner. Hopefully it can revive that too.
Powered by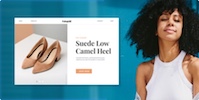 Create your own unique website with customizable templates.