My natural hair journey started in the summer of 2011, right before my senior year of high school. I told myself that if I could go three to four months in between relaxers then I probably didn't need one at all. It was my second attempt at returning to natural, with the previous attempt only lasting six months.

During the beginning of my journey, I probably did everything completely wrong. I didn't know anything about caring for natural hair and after a year of failing to implement protective styles and continuing to fry my curls, I was left with a hot mess.

I cut the length off a year later right before my freshman year of college. Still unsatisfied with my hair, I cut it again in January 2014. This time around, I told myself that I would go an entire year without using heat on my hair. That year turned into a year and six months.

On July 15, 2015, I straightened my hair for the first time in a year and a half. The occasion? There was finally a week of sunshine in Louisiana. (I dare not straighten my hair in rainy or humid weather)

The end result: hair that was longer than it had ever been with a relaxer. My ends were a little rough, but nothing that couldn't be fixed with a little trim.

To maintain healthy natural hair, you need to give your hair love and care. Moisturize, use protective styles and refrain from using heat. And when I say no heat, I mean no heat. Excessive heat does the same thing that a relaxer does. It will alter your curl pattern over time. Heat damage is real and it sucks.

Give the no heat challenge a try. Start with a goal of maybe one month. Increase your goal over time. It only takes 21 days to break a habit. So, if you can go one month without using heat, you can probably go longer. If you're properly caring for your hair, you will definitely see results. Trust me!

P.S. Before I straightened my hair, I washed it and deep conditioned it with a store bought deep conditioner as well as a homemade one. I will talk about those in a new post.


Powered by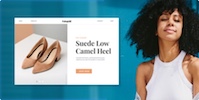 Create your own unique website with customizable templates.