During my time at LSU I've had the opportunity to meet many individuals who are trying to make a way for themselves and bring positivity and change into their communities. But to the young professionals and young entrepreneurs I've crossed paths with, here are the things that I've noticed... These are things that could be the difference between a good business person and a great business person...


1. If someone makes any type of appointment with you, whether it be an interview, a lunch date, etc., DO NOT FORGET about it. The fact that someone is willing to take time out of their busy schedule to get to know you better and find out what you're doing is an honor in itself. Why would you forget? It doesn't matter if it's a fellow student or the mayor of the Baton Rouge, give that person the respect of showing up.

2. If you tell someone you're going to do something, DO IT. I cannot tell you how many times I have had someone text me or call me or even tell me to my face that they're going to do something and don't do it. Don't commit to something you may not be able to do.

3. Don't be late… EVER. One thing marching band taught me was: If you're early, you're on time. If you're on time, you're late. If you're late……. Again, why waste people's time? It shouldn't matter if you're going to get your hair done, if you're to a club meeting or if you're going to work. You should never be late.

4. Be wary of the things you put on social media. Even if you have two separate accounts for your personal and professional lives, nothing is ever really private on the Internet. Even if you have privacy settings set to the max, your business can still be put out. The first thing a person will do after they meet you is Google you or search for you on social media. If they see things like you drunk in a club or twerking in the middle of the quad, why would they want to associate with you?


5. Be humble.

6. If you have a business, make sure you have excellent customer service. This means replying to the messages you may get if you have a Facebook page for your business, replying to emails in a timely manner, and resolve issues as quickly as possible with little to no attitude. I like supporting small businesses but if I ordered a product from you two months ago and I still haven't gotten it and you're not responding to emails, one: I will get my money back, two: I will never do business with you again, and three: You will forever get a bad review from me.

Now, I am by no means a life coach. I'm just commenting on the things I see and I'm keeping it real. Don't do something to one person that you wouldn't want any one else to do to you. And remember, keep it classy and keep it professional.


Powered by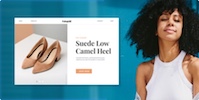 Create your own unique website with customizable templates.